26 Jun

Why Compound Interest is like magic!

An extract from an article by Dr Shane Oliver – Head of Investment Strategy and Economics and Chief Economist, AMP Capital. 

One dollar invested in Australian cash in 1900 would today be worth $240 and if it had been invested in bonds it would be worth $950, but if it was allocated to Australian shares it would be worth $593,169.

Although the average annual return on Australian shares (11.8% pa) is just double that on Australian bonds (5.9% pa) over the last 119 years, the magic of compounding higher returns leads to a substantially higher balance over long periods.

And yes, there were lots of rough periods along the way for shares over that time as highlighted by arrows on the chart, but the impact of compounding at a higher long-term return is huge over long periods of time. The same applies to other growth-related assets such as property.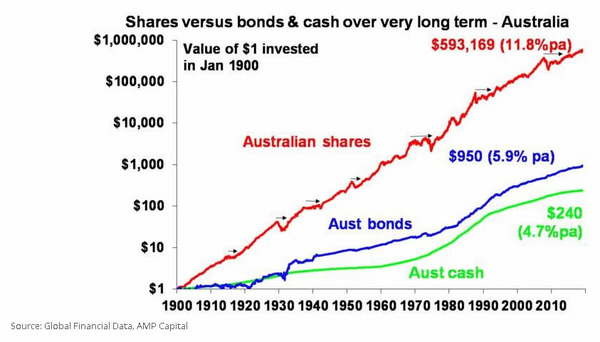 Compounding interest is critical for growing wealth however there are many other considerations for investing.  One of these is often overlooked yet is important – try where possible to 'keep it simple'.
Unfortunately we have a knack for overcomplicating it. And it's getting worse with more options, more information, more apps and platforms, more opportunities for gearing and more rules & regulations around investing.
But when we overcomplicate investments we can't see the wood for the trees. You spend too much time on second order issues like this share versus that share or this fund manager versus that fund manager, so you end up ignoring the key driver of your portfolio's performance – which is its high-level asset allocation across shares, bonds, property, etc. Or you have investments you don't understand or get too highly geared.
So, it's best to keep it simple, don't fret the small stuff, keep the gearing manageable and don't invest in products you don't understand.
Other investing tips include:-
Don't get thrown off by the cycle. The trouble is that cycles can throw investors out of a well thought out investment strategy. But they also create opportunities.
Invest for the long term. Given the difficulty in getting market and stock moves right in the short-term, for most it's best to get a long-term plan that suits your level of wealth, age, tolerance of volatility, etc, and stick to it.
Diversify. Don't put all your eggs in one basket. But also, don't over diversify as this will just complicate for no benefit.
Turn down the noise. After having worked out a strategy that's right for you, it's important to turn down the noise on the information flow and prognosticating babble now surrounding investment markets and stay focussed. In the digital world we now live in this is getting harder.
Buy low, sell high. The cheaper you buy an asset, the higher its prospective return will likely be and vice versa.
Beware the crowd at extremes. Don't get sucked into the euphoria or doom and gloom around an asset.
Focus on investments that you understand and that offer sustainable cash flow. If it looks dodgy, hard to understand or has to be based on odd valuation measures or lots of debt to stack up then it's best to stay away.
Seek advice. Given the psychological traps we are all susceptible too and the fact that investing is not easy, a good approach is to seek advice.
As a financial advisor Katie Young is very experienced in helping people achieve financial freedom. Call her now to discuss your current position and potential growth options on 02 4926 2699.